Over 10 years ago partners Dave Tewes and Tom Shafer came together with a vision of designing and constructing Omaha custom homes that were A Step Above anything being built. Dave would focus on the customer with a one-of-a-kind design process. Tom would use the finest materials and craftsman ensuring that every home was built to his exacting standards.
The results speak for themselves. Thomas David Fine Homes is found in Omaha's finest neighborhoods and acreage homesites, building about 15 custom homes each year in the $450k to $1M+ price range.
Partner Dave Tewes explains the company's philosophy. "Our goal is the same for every client. We deliver an architecturally appealing home that's functional, easy to live in and most importantly- the home ages gracefully. We always do the right thing when it comes to marrying great design, superior products and impeccable workmanship. When you own a Thomas David Fine home, you know your home will perform the same 10 years from now as it does today. It truly is A Step Above."
"Too often people get caught up in paying the lowest price for their custom home. This is short term thinking and comes with a high cost of ownership when products and workmanship fail after only a few years of living in the home. In all my time of building custom homes I've never had a client complain we spent too much time on their design, the products we used were too good and our construction techniques were over the top. Either we build your home the right way or we don't build it." Dave Tewes
100% Planning & Design Satisfaction Guarantee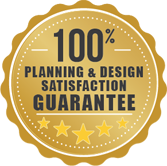 If you engage Thomas David Fine Homes to design and build a custom home for you, Dave and Tom guarantee you'll be…
100% satisfied with the location we suggest
100% satisfied with your homes architectural design
100% satisfied with our product recommendations
100% satisfied with our proposed workmanship techniques
If you're not delighted with any of the above we'll work diligently to redesign your home, at no cost to you, until you're 100% satisfied.